Ramnäs has pioneered the development of production, chain grades and quality. Our focus is on developing new methods and processes to improve every step from raw material to installed mooring. The perfection is in the details.
Material
We continously work to improve steel grades, and with more than 50 years of cooperation with steel suppliers and all major classification societies we ensure that our material grades meet or exceed the rigorous standards. With specific steel recipes, pre-dispatch certification, detailed arrival control and continous quality assurance routines, we make sure all material we use meet the high Ramnäs Offshore AB standards.
Welding procedure
Our verification procedures for weld quality are the result of decades of experience and have been incorporated into our processes to ensure 100% accuracy at all times. But also with pre-set welding machines and full inspection of each weld by microprocessors, we will always rely on our operators craftmanship to make sure all products are of supreme quality.
Heat treatment
The settings and procedures for each individual grade or size of chain has been carefully developed through decades of experience. Our heat treatment is performed in continuously and automatically controlled furnaces, operated by our experienced personnel. This gives every chain the best possible heat treatment, resulting in best-in-class mechanical properties.
Inspection
We put great pride in continously developing the world's most advanced inspection, and are always researching new ways of improving the process. Thanks to the strict quality procedures at both our suppliers and in our manufacturing, we are proud to put the Ramnäs Offshore AB seal of approval on our chains.
Innovative Minds
With continuous development of our high tech inspection tools, we always strive to increase the reliability of the mooring chains.
Phased Array
The Phased Array method, developed by Ramnäs Bruk, uses ultrasonic waves to check the interior of the welded area of the link. The versatility and high speed of the method enables 100% check of all welds, with faster and more accurate result than with traditional UT methods. And – the Phased Array method is of course approved by all major classification societies.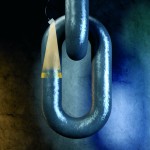 The signal-to-noise ratio from composite transducers is 10 to 30 dB greater compared to piezoceramic probes, which makes the Phased Array method suitable for various material thicknesses, with great depth of study possible for objects such as big H-shackles, triangle plates etc. Indications like small slag particles in the fusion line are also easy to find. Ramnäs uses linear electronic sector scanning technique for control of the weld.
The benefits are tangible; inspection period is shortened down to a tenth. The documentation is clear and can be stored and the vast majority of materials can be investigated.
Supersonic Corrosion Protection
Offshore chain is particularly sensitive to corrosion in the splash zone. Supersonic Corrosion Protection will reduce peak-corrosion in the splash zone to the same level as for the bulk of the chain.
Chain coated with aluminum obtains cathodic protection. Surface coating gives longer life or reduced chain dimensions due to less corrosion allowance, while maintaining durability and thus provide a lifecycle cost saving.
The Supersonic cathodic protection does not require 100% coverage, if for example, only 70% of the surface is covered, effective protection can be obtained. We have shown that even in splash zone a good cathodic protection is possible and by which the corrosion rate might be reduced four times. Supersonic Corrosion Protection provides cathodic protection without the risk of hydrogen embrittlement.
RFID Instant Traceability
We offer to our customers as a part of our standard range the option to have RFID chip installed in stud link chains to obtain instant traceability. We offer this solution for wireless identification and tracking to give the possibility to track each link and obtain necessary information in a software system. This will improve business processes and enable value creation for our customers.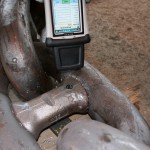 Ramnäs has as first chain supplier delivered chains with the RFID chip applied and the chains are now installed offshore.
Automatic Magnetic Particle Inspection
The final magnetic particle inspection eliminates the risk for surface defects on the finished chain. We use an Automatic Magnetizer to make the inspection more exact by ensuring full strength of the magnetic field in both directions simultaneously. By using both the Phased Array and Automatic Magnetic Particle inspection, we increase our efficiency by 50%, while further enhancing the Ramnäs Bruk quality.