Ramnäs Bruk has the best stud link anchor chain on the market, due to our unique manufacturing method of controlled stud expansion.
Our stud link chain is superior compared to all other available stud link anchor chain today. Our studs stay in place.
Asymmetrical design
Ramnäs Bruk has developed an asymmetrical stud that is carefully installed and expanded to exact tolerance that was established through years of research and development. The asymmetrical design of the stud gives equal stud footprints and contributes to a symmetric stress-distribution in the link. This design combined with Ramnäs Bruk's controlled stud expansion, is the standard method in Ramnäs Bruk production process since 1991. The in-built "spring" effect makes a tremendous difference in avoiding loose studs. The experiences during the years are that the percentage of loose studs has been reduced from an average of 30% to 70% to almost zero. The studs stay in place resulting in a superior quality chain.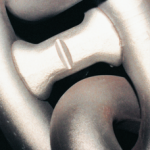 The asymmetrical stud design and the procedures for controlled stud expansion are approved by ABS, DNV and LRS.
The key benefits in short
Higher proof load
At least three times increased fatigue life
Reduced risk of stress corrosion in the weld
Improved utilisation of the base material ductility
Increased peak loads without any deformation
Facilitate installation, no kink and knots
Low life cycle cost