Ramnäs Offshore AB is a world-wide class manufacturer of high-quality offshore chain meeting the classification societies highest quality standards.
Short Facts about Ramnäs Offshore AB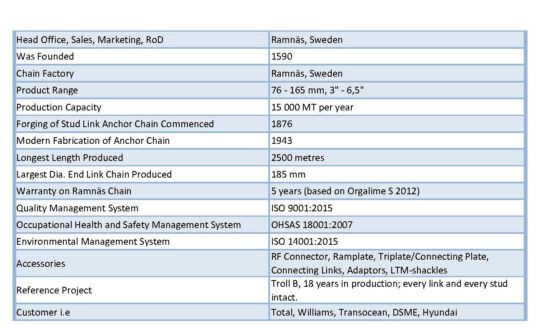 The best stud link anchor chain on the market is produced in Ramnäs! Ramnäs stud link chain is superior compared to all other available stud link anchor chain, this is due to Ramnäs unique manufacturing method of controlled stud expansion. Ramnäs studs stay in place!
Ramnäs Offshore AB is a chain manufacturer without any mooring line failure due to fabrication failure. Not one single claim the last 25 years.
Our valued customers are among others:
Engineering companies
Drilling contractors
Oil companies
Offshore loading terminals
Our manufacturing process conforms to the international quality assurance standard ISO 9001:2015.
Offshore operators show confidence in Ramnäs Offshore AB chains for the 24-hour protection of their employees, equipment and production.