A Pioneer with an Impressive History
Iron-manufacture in Ramnäs celebrated its four-hundredth anniversary in the year 1990. Ramnäs started as a Crown enterprise 1590 making wrought iron from pig iron. The first forging-hammer was built by the Queen dowager Catarina Stenbock, to whom the whole district belonged as fief.
Swedish wrought-iron played an important role in Swedish export the following three-hundred years. During the second half of the nineteenth century the wrought-iron manufacture in Ramnäs was completed with a rolling mill, thus creating a fully integrated manufacture of steel bars from pig iron. With good access to bar-material, chain production started 1876. Modern fabrication of anchor chain was initiated in Ramnäs 1943.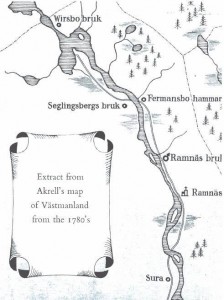 Ramnäs Offshore AB has through the years been a pioneer in the development of chain and connector design as well as in the introduction of new manufacturing, inspection and testing routines. New connector designs, latest version known as RF-connector, were introduced in 1990 and a new stud chain design, with an asymmetric stud in combination with controlled stud expansion, was introduced in 1991.
The greatest step seriously affecting the development of anchor chain came during the sixties when the offshore industry started to utilise ships-chain for mooring of drill-ships and semi-submersible platforms. This kind of use diverged radically from the normal use of ships-chain. Offshore chain is continuously subject to load, whereas the chain on most ships is in rather infrequent use. Thus the offshore chain has to withstand considerably more severe conditions than ships-chain, particularly as regards resistance against fatigue.
Always one step ahead- Ramnäs Offshore AB Timeline
History of Development in Ramnäs
1943
The merry-go-round method for anchor chain production was developed by Ramnäs and later marketed around the world by ASEA-SVETS.
1946
Ramnäs delivered the first normalised chains to the Royal Swedish Navy. This was the first grade 2 chain ever ( R m = approx 500 MPa) and it soon was established as standard for modern ships-chain, substituting Grade 1 (R m = approx 300 Mpa).
1965
Swedish steel-manufacturers started the manufacture of micro-alloyed steel suitable for normalised chain grade 3 (R m = 690 Mpa). At a visit by our technical manager in the London office of Lloyds Register of Shipping an old surveyor expressed deep concern over our stubborn aim for upgrading chain: "When only grade 2 existed, life for surveyors was easy. Anyone can manufacture grade 2. Today everyone pretends to be making grade 3 with disastrous results and a very hard life for surveyors".
1967
Ramnäs built a factory for manufacture of continuous lengths of chain. The traditional chain for ships was always tested and delivered in 15 fathoms-lengths which were shackled together to longer lengths. The offshore industry wanted continuous lengths without shackles and our new factory responded to the customers' wishes. In this new factory we also developed the continuous test-loading of the chain, breaking the very old tradition of testing 15 fathom lengths.
1971
Fagersta AB started making a weld-able low carbon, high manganese steel called Fama. Successful trials to make chain resulted in Ramnäs Super (R m = 930 Mpa), which however was of no interest among customers,  at that time.
1981
The construction of a large number of Aker H 3 semisubmersible drilling platforms created a huge need for grade 4 chain. Due to the need for toughness a new steel quality was developed by SKF-STEEL, a low carbon steel alloyed with Mn, Cr, Ni and Mo(R m = 930 later adjusted to 860 MPa). This was the dramatic start for grade 4. Too much chain was produced without waiting for the practical consequences in offshore operation.
The following decade was devoted to fine tuning of specifications as well as of works practice and of material qualities utilised for grade 4.
1989
Stud welding for stud fastening was replaced by stud expansion. This expansion pre-loads the link thus maintaining long-time stud contact in spite of the loss of material by corrosion in the stud-contact surfaces.
1990
RAMFOR and RAMFOR SLIM connector (now called RF Connector) designs introduced and approved by ABS, DNV and LRS.
1991
Asymmetric stud design combined with controlled stud expansion introduced and approved by ABS, DNV and LRS.
1992
The heaviest sizes for Grade 4, 160 mm respectively 157 mm dia., ever approved by ABS, DNV and LRS. RAMFOR Anchor shackle design introduced and approved by ABS, DNV and LRS.
1994
DNV approvals for studless anchor chains.
1995
Approval of LTM shackle design. World record size stud link chain grade 4, 152 mm (6″) dia. NVK4-RIG for Norsk Hydro/Troll B. First design ever of approved installation link.
1996
The first delivery of studless chain. Over the years more than 30 000 tonnes studless chain has been delivered from Ramnäs since then.World record size studless chain 6 1/4″ dia., R3S, for S.B.M./BP Schiehallion.
1999
In order to be able to utilise existing winches with stronger chains Grade 4+ was developed. A stronger steel was utilised in combination with 82 mm bar-diameter for chain with the five-link length of 76 mm diameter.
2003
Delivery of chain with extra high demands in taylor made length was performed. Affected by the global recession of the offshore industry the chain factory went into liquidation in August 2003.  An entirely new company was formed with the name Ramnäs Bruk AB. The new owners where SRK, Svenskt Rekonstruktionskapital AB 60 % and AB Arvid Svensson 40 %.
2008
In June 2008 Vaultlink Pte Ltd, representing a group of Norwegian private investors, acquired a majority (70%) of the shares in Ramnäs Bruk. The remaining 30% was kept by the sellers, Svenskt Rekonstruktionskapital AB, AB Arvid Svensson and Östersjöstiftelsen.
2010
Ramnäs Bruk introduces the new State of the Art technique, Phased Array for Ultrasonic testing
2011
In September 2011 Ramnäs Bruk AB was acquired by Vicinay Marine S.L.
2013
New furnace was installed with an increased chain speed with 30% compared to our prior furnace.
2015
Ramnäs Bruk continues to invest for the future by building a new furnace system consisting of both quenching and tempering furnaces. The furnaces will increase the production capacity by double and also give Ramnäs Bruk the potential to develop future chain grades as R6.
2019
Affected by the global recession of the offshore industry, the new market for floating wind-mills and fish-farms the factory went into liquidation in October 2019.
The company was re-acquised by Vicinay Marine S.L. in December 2019.
2020
Ramnäs have now expanded our existing services for mooring chain with a mobile inspection unit.
The unit is handling chain up to 102 mm stud chain and can also fasten loose studs by stud-expansion (Studlock ®).
Inspection is handled by skilled operators, which has many years of experiences from chain inspection.