For Chain inspection there is possibility to use Ramnäs Inspection unit at site.

The unit is constructed to achieve fully inhouse inspection of mooring chain, with controlled light and environment. In unit there is 3 places for visual inspection, MT inspection and as an option UT (Phased Array) inspection.

To fix links with loose studs a Ramnäs Stud Lock equipment is installed in line.

Monitoring of chain outside unit is done by CCD cameras.

Reporting is done by operators directly in to Ramnäs MES and QA system.

Unit is easy to install and dismantle and is easy to establish at site. When unit is dismantled it is movable by truck. Complete unit is also movable by crane all together.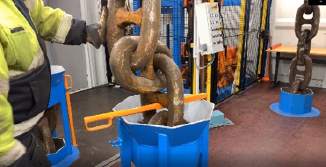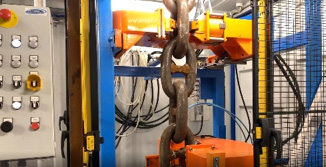 Capacity

Inspection methods
Inspection can be made with MT, visual inspection and as an option by US (Phased Array) method. MT inspection is normally done with UV light. All will be done by highly skilled and certified personnel in acc. with SS-EN ISO 9712.